The Team

Dr. Steffen Hennig, CEO:  SH is co-founder and CEO of HSDiagnomics since 2012. He holds a PhD in Theoretical Physics from University of Goettingen, but switched into the field of Molecular Genomics and Bioinformatics in 1995, where he joined the group of Hans Lehrach at the MPIMG in Berlin, Dahlem. He has extensive experience in genomics and bioinformatics, with a special focus on sequence analysis. In 2007, he was co-founder of imaGenes GmbH, where he was heading the bioinformatics and the service groups. From 2010-2012 he was head of Bioinformatics at Source Bioscience, Nottingham. Apart from his CEO position at HSDiagnomics SH is directing the bioinformatics developments and applications. He is inventor of the TCRsafe® system, together with VS and other colleagues.  
Dr. Volker Lennerz, CSO:  VL is an immunologist and molecular biologist educated at the University Medical Clinic (UMC) of the Johannes Gutenberg-University, Mainz. Trained in biomedical research and immuno-oncology, VL has made seminal contributions to discoveries about the roles T cells play in the control of tumors in humans, and the identification and characterization of the specific tumor antigens the T cells target. VL brought his expertise to pharma industry-sponsored immunotherapy studies by providing immune-monitoring services for the analysis of vaccine-induced T cells responses. For more than five years, he was head of quality control of UMC's hematopoietic stem cell transplant production laboratory. VL joined HSD in October 2016 as a scientific advisor, and in his role as CSO continues to drive forward novel developments in antigen discovery as well as personalized and off-the-shelf immunotherapies employing tumor-antigen specific T-cell receptors.
Martin Stock; CFO: MS is a co-Founder of HSD. He holds a MBA and worked for many years in the fields of Controlling and Finance for several companies, before joining the RZPD, German Ressource Center for Genome Research GmbH in 2011 as administrative director. In 2007, he was co-founder of imaGenes GmbH, which took over the operations from the RZPD through a Management-Buyout. From 2010 – 2014 he was General Director Germany at Source Bioscience, Nottingham. MS is a CFO with broad experience in Finance, Accounting, Legal, HR and Quality-Management in BioTech companies.
Dr. Ing. Anja Dröge:  AD studied Biotechnology at the TU Berlin and performed her PhD at the the Max Planck Institute for Molecular Genetis, Berlin (1994-1998). From 2000-2007 she worked as a post doctoral fellow on the pathogenesis of neurodegenerative diseases (Huntington's Disease, Spinocerebellar Ataxias) in the group of Prof. Wanker at the Max Delbrück Center for Molecular Medicine. AD is co-founder of SINA Science Services GmbH, a company offering service and support on advanced molecular biology projects. In 10/2013 she joined the team of HSDiagnomics as co-partner and R&D manager. AD is a senior scientist and expert in a broad range of molecular biological technologies.
Dr. Sigrid Schaper:  SS studied Biochemistry at the Freie Universität Berlin and performed her PhD thesis at the Max Planck Institute for Molecular Genetis, Berlin (1992-1995). From 1998 – 2001 she was a fellow of the Human Frontier Science Programme Organization in the group of Prof. Yaniv at the Institut Pasteur, Paris. In 2001 she moved back to the Max Planck Institute for Molecular Genetics where she conducted research on chromatin remodeling. In 2007, she was co-founder of SINA Science Services GmbH, a company specialized in advanced molecular biology services, together with AD. SS is a senior scientist and expert in biochemical and molecular biological technologies. Since 10/2013 she is co-partner and R&D manager at HSDiagnomics.
Prof. Dr. Rudolf Hammer:   RH studied biology and pharmacology in Austria, U.S. and Germany, and was a senior manager at Boehringer Ingelheim (BI) until 2008 in several leading positions, e.g. from 1992-2000 he was head of research at BI Germany with responsibilities for up to 500 researchers.  Being a researcher at BI in the 1970s he discovered the subtypes of the muscarinic acetylcholine receptors which was the starting point for the pharmacology and therapy of subtype selective muscarinic ligands. As a member of HSDiagnomics RH supports the company scientifically and strategically in the development of new technologies and their commercialization.
PD Dr. Volkhard Seitz:  VS holds a doctoral degree in biochemistry. His scientific focus are molecular alterations in malignant lymphomas and the understanding of the complex mechanisms of T- and B-cell rearrangements. Currently, he is a senior scientist at the Charité in the Institute of Pathology (Experimental Hematopathology; Prof. Michael Hummel) and co-founder of HSDiagnomics. VS was winner of the Berlin-Brandenburg business competition and is a member of the German National Academic foundation. His personal mission is to translate research into practical clinical applications and to support the fight against lymphomas and other haematological diseases. VS is an important driver for the technologies developed by HSDiagnomics and co-inventor of the TCRsafe® system.
Dr. Jörn Glökler: JG studied biology with a focus on genetics and biochemistry at the University of Bayreuth. In his doctoral thesis he employed phage display technology to find new peptide ligands to metal chelates suitable for affinity chromatography of recombinant fusion proteins. He has worked as a group leader at the Max-Planck Institute for Molecular Genetics in Berlin (2008-2011) to establish novel protocols in high-throughput screening technologies such as protein microarrays, SELEX, DNA encoded libraries in conjunction with next-generation sequencing and biosensors. He has gained profound experience in applied scientific research working for biotech companies and IP law firms. As an inventor he has filed several patent applications including coupled sequencing and sorting of immune cells. Within HSD, JG is a senior advisor for these technologies and IP-related strategies.
Dr. Mathias Dreger: MD studied Biochemistry at the Free University Berlin. His PhD thesis in the group of Pro. Dr. F. Hucho at the Free University Berlin focused on complex membrane protein structures. He acquired expertise in mass spectrometry-based proteomics and spent more than four years between 2003 and 2008 at the Univerity of Oxford, UK, to establish a proteomics lab within the Oxford Ion Channel Initiative OXION. In 2008, he joined the Berlin-based chemical proteomics company caprotec bioanalytics GmbH as Head of Biochemistry, later also Bioanalytics. Having completed several consultancy tasks in the area of technology transfer between 2017 and 2019 he joined HSD in 2019 as a research scientist in the area of technology development.
Kristin Gennermann:  KG is our head of immunoinformatics. After a full education in nutritional science, with study periods in Australia and New Zealand, she reached a masters degree in bioinformatics at University of Potsdam, Germany. KG works with our company since 2018. Her main expertise is in development of bioinformatics tools for gene expression and mutational analysis, with a special focus on T-cell receptor (TCR) profiling and immunoncology. She is applying statistical methods and AI for identification of tumor specific TCRs and prediction of tumor antigens.
Advisors to HSDiagnomics
Dr. Hans-Jörg Warnatz:  HJW is project leader at the MPI for Molecular Genetics in Berlin, where he is investigating adaptive immune receptor repertoires from B- and T-cells including paired immunoglobulin heavy and light chain repertoires. His current areas of research are vaccine efficacy studies, monitoring of autoimmune disorders and Treg-based cell therapies for chronic graft-versus-host disease. Within HSDiagnomics, HJW is an advisor to HSD for paired sequencing technologies and sorting of immune cells.
Prof. Dr. Armin Gerbitz:  AG is professor for "Hematology and Cellular Therapy" at the Dep. of Medicine 5, Hematology/Oncology, Hematopoietic Stem Cell Transplantation, University Hospital of Erlangen. For more than 15 years his main research focus lies in allogeneic hematopoietic stem cell transplantation, diagnostics and therapies of malignant lymphoms and leukemia, and therapy related problems like Graft-versus-Host-Disease (GvHD) and reactivation of latent herpes viruses. He is an expert in human and murine immune cell biology and has long-standing expertise in murine model systems. Within HSDiagnomis AG is a senior advisor for all aspects of T-cell profiling, related technologies and upcoming applications in T-cell based treatments and diagnostics, e.g. novel tumor therapies.
HS Diagnomics GmbH
Schloßstrasse 110
12163 Berlin
Germany
Tel. +49(30)700 14 53 30
Fax +49(30)546 11 698
Customer Support
Tel. +49(30)700 14 53 31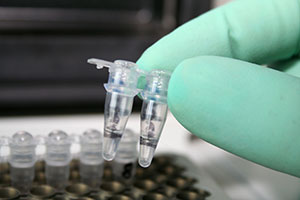 News
10/2023
HSDiagnomics partners with Charité University Medicine Berlin, TheryCell GmbH, and EPO GmbH in an innovative project to advance TCR-T therapy for solid tumors
Read more ...
06/2020
TCRsafe® analysis of a Runx1 knockout mouse model provides evidence for a role of RUNX1 as a recombinase cofactor for TCRbeta rearrangements and pathological deletions
Read more ...
08/2019
ZIM-Project TCR-specific Antigen Identification - TAgID
Read more ...
04/2018
Patent granted for the identification of tumor-specific T-cell receptors
Read more ...
10/2016
Dr. Volker Lennerz joins the HSDiagnomics advisory board
Read more ...
11/2015
Patent granted for TCRsafe® analysis
Read more ...
03/2015
Prof. Dr. Armin Gerbitz joins the HSDiagnomics advisory board
Read more ...
10/2014
HSDiagnomics launches TCRsafe® T-cell profiling service
Read more ...
04/2013
HSDiagnomics wins ProFIT grant provided by Investitionsbank Berlin (IBB) 
Read more ...
04/2013
HSDiagnomics enters partnership with Charite/Berlin
Read more ...