Services
Human TCRbeta Profiling - TCRsafe®
HSDiagnomics provides a complex service to customers, starting normally from genomic DNA extracted from blood, tissues, or FFPE samples. Using our proprietary primer sets covering all 43 V-segments and 14 J-segments for the T-cell Receptor beta (TCRbeta) CDR3 locus, plus an inbuilt contamination protection system, we amplify the T-cell repertoire and perform a deep sequencing step: Typically 1-2 million read-pairs per sample are generated.
In the 2nd part of the TCRsafe®-service, with an in-house developed software package HSDiagnomics processes and assembles raw reads into clusters and assigns V/J-segment IDs and CDR3 DNA and amino acid sequences. The result of our analysis sent out to customers is a table of clusters and frequencies, i.e. a high-resolution profile of TCRbeta.
At a glance, our TCRsafe® service comprises the following steps:
2-step multiplex PCR with contamination protection
Optimized primer concentrations to ensure quantitative analysis
Generation of barcoded sequencing libraries
Ultra-deep sequencing (HiSEQ, MiSEQ) with typically 1-2 million read-pairs per sample
Highly-sensitive clustering of reads
Assignment of V/J-segment IDs according to the IMGT annotation system
Generation of comprehensive TCRbeta frequency tables (spreadsheets), see an example here
Customized bioinformatic analyses
---
Mouse TCRbeta Profiling - TCRsafe®
There are strong interests by researchers in academic and industry labs to perform analysis of T-cell response under various treatments in the mouse model system.
HSDiagnomics addresses these needs by a proprietary mouse TCRsafe® analysis. It is a thoroughly optimized quantitative TCRbeta assay, equipped with the same contamination protection system as the human TCRsafe® kit. Besides using fresh tissue, blood, and cultured cells, the assay can be also performed on formalin-fixed and paraffin-embedded tissues.
Examples for TCRbeta analyses of 5 wildtype (C57Bl/6) mice thymi are given here and the optimization of the quantitative TCRbeta analysis employing an synthetic reference template has been published here.
Interested customers are welcome to contact us for more details.
---
TCRsafe® – Fee-for-Service Tasks and Research Collaboration Projects
HSDiagnomics has processed several hundreds of samples using its TCRsafe® technology in fee-for service tasks and research collaboration projects carried out with partners both in academia and industry.
As a service provider and partner we can offer our well tested technology for generating, handling and analyzing huge data volumes. We guarantee fast delivery of results and offer systematic tools for displaying and storing results in a user-friendly way.
The following features will enable robust and relevant data acquisition in your project in a very short period of time:
Data quality and safety: Contamination protection will be active from project start to end.
Data mining packages by HSDiagnomics will help you to find the relevant TCRs and common TCR motifs in large sample cohorts – easy and precise.
Specific questions and needs of customer projects can be addressed by customized software modules.
HSDiagnomics will organize your data storage.
We are happy to discuss all relevant details with you – just give us a call!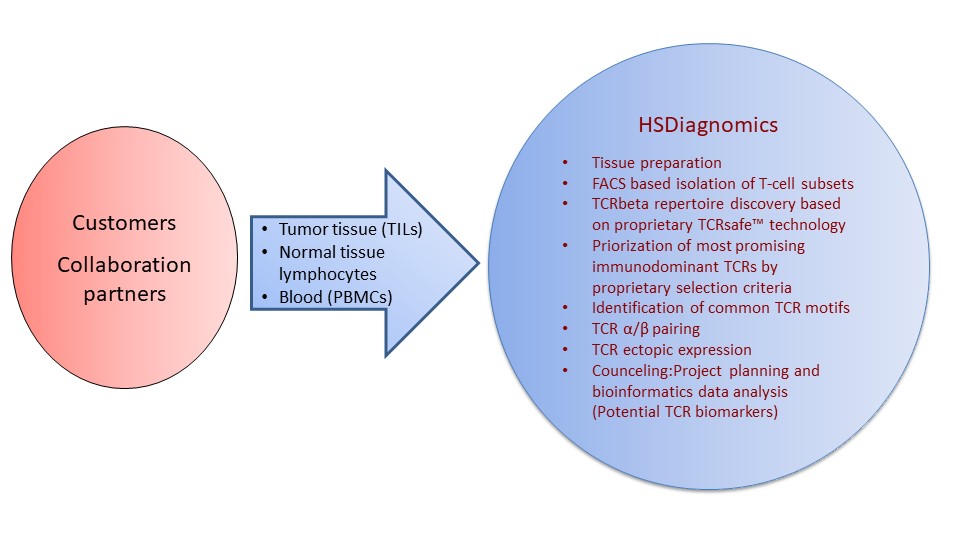 HS Diagnomics GmbH
Schloßstrasse 110
12163 Berlin
Germany
Tel. +49(30)700 14 53 30
Fax +49(30)546 11 698
Customer Support
Tel. +49(30)700 14 53 31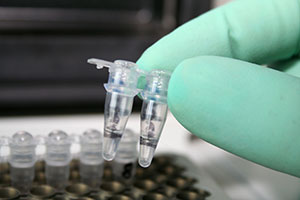 News
06/2020
TCRsafe® analysis of a Runx1 knockout mouse model provides evidence for a role of RUNX1 as a recombinase cofactor for TCRbeta rearrangements and pathological deletions
Read more ...
08/2019
ZIM-Project TCR-specific Antigen Identification - TAgID
Read more ...
04/2018
Patent granted for the identification of tumor-specific T-cell receptors
Read more ...
10/2016
Dr. Volker Lennerz joins the HSDiagnomics advisory board
Read more ...
11/2015
Patent granted for TCRsafe® analysis
Read more ...
03/2015
Prof. Dr. Armin Gerbitz joins the HSDiagnomics advisory board
Read more ...
10/2014
HSDiagnomics launches TCRsafe® T-cell profiling service
Read more ...
04/2013
HSDiagnomics wins ProFIT grant provided by Investitionsbank Berlin (IBB) 
Read more ...
04/2013
HSDiagnomics enters partnership with Charite/Berlin
Read more ...