Who We Are
HSDiagnomics was founded in late 2012. Inspired by several years of research about T-cell receptors and the enormous possibilities of modern Next-Generation-Sequencing plus tailored bioinformatics tools we came to the conclusion that our protocols and methods for target-specific amplification of TCRbeta loci from genomic DNA samples provide a key to profiling and understanding the adaptive immune system. With our proprietary TCRsafe® technology, we believe that even large-scale screens on TCRbeta profiles under various conditions can be carried out in a robust and quantitative way, without risk of carryover contamination.
HSDiagnomics offers a fully integrated service to customers, which opens new possibilities for all scientific and R&D projects investigating the role of T-cells under diverse conditions (treatments, vaccination, diseases, etc.). With our experts and technology at hand our customers will save time, budget and staff resources, since there is no need to set up and evaluate primer systems or develop dedicated software solutions. Within days we can deliver results, which bring you directly to the important questions.
What makes TCRsafe® the method of choice (?):
We use a 2-step PCR-amplification step starting from genomic DNA, which avoids bias by the extremely long primers as they are used in 1-step amplification systems
Carryover of DNA as a source of contamination can be a serious problem. TCRsafe® avoids contamination from the first sample on, even spurious amounts of foreign DNA will be eliminated.
The complete IMGT nomenclature is used in our annotation of TCRbeta sequences, every known V/J-segment is addressed by our primers.
Our primer mixtures are thoroughly calibrated by use of a proprietary reference template set. This is an important feature, since in a multiplex set-up of 43 (V) versus 14 (J) primers it is a non-trivial task to establish even amplification rates of all possible V/J-combinations.
TCRsafe® will produce ready-to-use sequencing libraries with barcodes for economical multiplex NGS runs
An in-house developed and carefully tested bioinformatics package does all tedious steps from processing of raw sequence pairs up to sophisticated clustering and frame analysis of CDR3 sequences.
HSDiagnomics continuously works with partners, e.g. from Charite/Berlin and University Hospital/Erlangen to improve and extend its technology. We are always interested in cooperations with academia or R&D teams!
HS Diagnomics GmbH
Schloßstrasse 110
12163 Berlin
Germany
Tel. +49(30)700 14 53 30
Fax +49(30)546 11 698
Customer Support
Tel. +49(30)700 14 53 31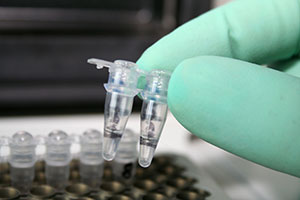 News
06/2020
TCRsafe® analysis of a Runx1 knockout mouse model provides evidence for a role of RUNX1 as a recombinase cofactor for TCRbeta rearrangements and pathological deletions
Read more ...
08/2019
ZIM-Project TCR-specific Antigen Identification - TAgID
Read more ...
04/2018
Patent granted for the identification of tumor-specific T-cell receptors
Read more ...
10/2016
Dr. Volker Lennerz joins the HSDiagnomics advisory board
Read more ...
11/2015
Patent granted for TCRsafe® analysis
Read more ...
03/2015
Prof. Dr. Armin Gerbitz joins the HSDiagnomics advisory board
Read more ...
10/2014
HSDiagnomics launches TCRsafe® T-cell profiling service
Read more ...
04/2013
HSDiagnomics wins ProFIT grant provided by Investitionsbank Berlin (IBB) 
Read more ...
04/2013
HSDiagnomics enters partnership with Charite/Berlin
Read more ...