Home
HSDiagnomics partners with Charité University Medicine Berlin, TheryCell GmbH, and EPO GmbH in an innovative project to advance TCR-T therapy for solid tumors
Berlin, October 30, 2023 - HSDiagnomics, in collaboration with TheryCell GmbH, EPO GmbH and Charité University Medicine Berlin is excited to launch a cutting-edge project aimed at advancing the identification and preclinical validation of tumor-specific T-cell receptors (TCRs) for TCR-T cell therapy of solid cancers.
Building upon HSDiagnomics' proprietary antigen-agnostic approach successfully validated in Non-Small Cell Lung Cancer (NSCLC), this novel methodology to identify tumor-specific T-cell receptors will now be extended to more solid cancers with high medical need.
The collaborative effort of three Biotech companies and the Dept. of Hematology, Oncology & Cancer Immunology and the Institute of Pathology of the Charité will focus on identifying and validating tumor-specific T-cell receptors for Pancreatic Ductal Adenocarcinoma (PDAC), Colorectal Carcinoma (CRC), and Breast Cancer (BC). This ambitious project aims to advance TCR-T therapies ranging from the selection of therapeutic TCRs to establishing a GMP-compliant workflow for the manufacture of therapeutic doses of personalized as well as off-the-shelf TCR-T cell therapies.
The project is funded for three years by the ProFIT program of the IBB Berlin and the European Union (EFRE, Europäischer Fonds für regionale Entwicklung), underscoring the significance and potential impact of this pioneering initiative.
Our company
was founded in 2012 and specializes in quantitative T-cell receptor beta (TCRbeta / CDR3) profiling by ultra-deep sequencing. With our proprietary TCRsafe® technology, tested and optimized in thousands of samples, we can display the T-cell receptor beta repertoire in blood and tissue samples in maximal resolution, up to the single-cell level and up to every single nucleotide and translated peptide of the TCR. Within days, our customers will receive a molecular view of TCRbeta profiles, a key to understanding the adaptive immune system. Moreover, our TCRsafe® procedure allows the simultaneous analysis of cohorts of samples, with detailed overlap analysis – a cutting-edge tool for systematic studies of the adaptive immune system.
Our mission
and our offer to the market is a robust and integrated service to explore TCRbeta profiles in maximal resolution for humans and mice. Our customers send us the samples, the rest of the procedure is carried out by us. Our experienced team of molecular biologists, technicians and bioinformaticians will deliver quantitative TCRbeta-profiles comprising thousands of clonotypes, which are characterized by their V- and J-segment usage and their complementary determining 3 region (CDR3). All results are displayed in compact tables, which can be easily managed by customers and detailed reports will document every relevant result of our analysis. We believe that our T-cell profiling technology will open a new field of diagnostics and medicine, with key features of individual immune responses in the context of various diseases being uncovered. Moreover, making use of our proprietary technology for detection of tumor-specific TCRs, HSDiagnomics is partnering in projects aiming at the targeted discovery of tumor antigens or implementing TCR-repertoire dynamics as biomarkers.
Our technology
is based on a two-step PCR-amplification with proprietary primer systems, which quantitatively amplify TCRbeta specific regions directly from genomic DNA. With an inbuilt 2-fold carry-over contamination protection, our TCRsafe® protocol is superior to competing technologies. Following state of the art deep-sequencing, HSDiagnomics uses in-house developed bioinformatics tools to condense millions of raw sequence reads to decode highly diverse individual TCR repertoires. The resulting TCR profiles can be harnessed for different applications, such as biomarker discovery, identification of tumor-specific TCRs for immunotherapy or TCR cluster analysis for antigen discovery.
HS Diagnomics GmbH
Schloßstrasse 110
12163 Berlin
Germany
Tel. +49(30)700 14 53 30
Fax +49(30)546 11 698
Customer Support
Tel. +49(30)700 14 53 31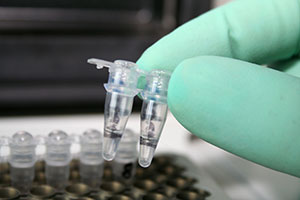 News
10/2023
HSDiagnomics partners with Charité University Medicine Berlin, TheryCell GmbH, and EPO GmbH in an innovative project to advance TCR-T therapy for solid tumors
Read more ...
06/2020
TCRsafe® analysis of a Runx1 knockout mouse model provides evidence for a role of RUNX1 as a recombinase cofactor for TCRbeta rearrangements and pathological deletions
Read more ...
08/2019
ZIM-Project TCR-specific Antigen Identification - TAgID
Read more ...
04/2018
Patent granted for the identification of tumor-specific T-cell receptors
Read more ...
10/2016
Dr. Volker Lennerz joins the HSDiagnomics advisory board
Read more ...
11/2015
Patent granted for TCRsafe® analysis
Read more ...
03/2015
Prof. Dr. Armin Gerbitz joins the HSDiagnomics advisory board
Read more ...
10/2014
HSDiagnomics launches TCRsafe® T-cell profiling service
Read more ...
04/2013
HSDiagnomics wins ProFIT grant provided by Investitionsbank Berlin (IBB) 
Read more ...
04/2013
HSDiagnomics enters partnership with Charite/Berlin
Read more ...